Nothing Creates Connection Like Travel
Among the many benefits of your Global Santa Fe membership is the opportunity to participate in trips organized by the World Affairs Council of Philadelphia (WACP).
Providing first-hand cultural experiences, Global Santa Fe's travel program, in partnership with the World Affairs Council of Philadelphia, elevates international understanding and galvanizes our community of globally informed citizens.  Our reputation as one of the nation's leading international forums for dialogue and diplomacy allows us to receive invitations to meetings with leaders of local organizations and governments. Blending with opportunities to explore the culture of remarkable sites around the world, our trips offer access not available on any other tour.   
The World Affairs Council of Philadelphia organizes all the Travel the World trips for organizations like Global Santa Fe and has been doing so for over 35 years. If you enjoy traveling on unique tours to fascinating destinations and having access to political and cultural experts and local guides who give behind-the-scenes views and briefings, then you'll quickly discover why traveling with Global Santa Fe is so special.
Each trip is planned with rich learning opportunities offered by experts, special local access, and personalized service.
Upcoming Trip: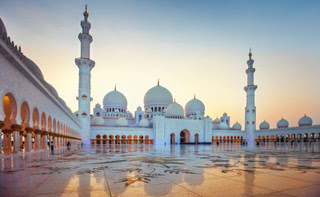 Escape the winter chill and join Global Santa Fe's volunteer Program Director and World Affairs Council leader, Jim Falk, in the United Arab Emirates from January 30 to February 8, 2024! WACP announces this 9-day trip that includes visits to the Louvre Abu Dhabi, Old Dubai, spice and gold souks and landmarks such as the Palm Jumeriah and Burj Khalifa, the world's tallest building. Check out the Trip itinerary.
If you are interested, please send in your registration soon to ensure your spot. While there is now a waiting list for single accommodations, there are still spaces for double occupancy.